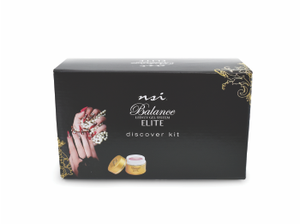 The Balance ELITE LED/UV Gel System combines light cured technology and beautiful chemistry to create a new hard gel system. Balance ELITE LED/UV Gel System is a user-friendly gel system perfect for a variety of nail services including natural nail overlays, tip and overlays, sculpting on a form, and indestructible pedicures. Balance ELITE Gels are available in a range of colors and opacities. All intelligently formulated.-
KIT VALUE R4246- SAVE R606
Hema-Free gel perfect for sensitive clients.
Odorless product perfect for spa environments
True color when applied means using less product to get the perfect opacity.
Great for any level gel user.
Holds shape, but still self levels.
Can be used for any length natural nails, sculpting on a form or tip and overlays.
Kit Contents:
Sculptor Pretty in Pink – 15 g
Sculptor Glass – 15 g 
Sculptor French Rose – 15 g 
Sculptor Snow White – 15 g 
Secrets Removable Gel Brush on White – 6 g
Essential Bond Enhancer – 15 mL 
Essential Bond (Acid-Free) Primer – 15 mL
Essential Base – 15 mL 
Cleanse – 60 ml 
Nailpure Plus – 60 ml
Purify – 60 ml 
Touch Tip #5 (Oval) Brush
Platinum Nail Forms 
Endurance 100/100 Grit File
Endurance 150/150 Grit File
Endurance 180/240 Grit Buffer
Nurture Oil – 15 mL
FlexiGloss Top Coat – 15 mL 
Nail Wipes