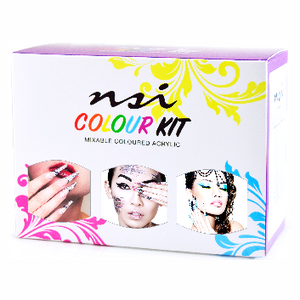 The NSI Colour acrylic Kit  is a full range of mixable Colored Acrylic Powders that can be used to create embedded designs, color fades, and 3D nail art over finished acrylic enhancements.
Recommended for use with the Attraction Nail Liquid
Customize acrylic nail enhancements by mixing with  Attraction Acrylic Powders for a totally custom color.
Vibrant colors bring your designs to life, and mix them together to create an entirely new color range
High pigment colors that can be mixed, including Opal Shimmer, an iridescent super-fine glitter.
Kit Contents:

Fourteen Simplicite 7gm Powders (Fire Engine Red, Cocoa Dust, Plum & Done, Deep Secrets, Summer Melons, Sparkling Tangerine, Flower Child, Fairy Tails, Top Secret, Stormy Skies, Lemonade, Snowflake, White Diamonds, Cloak & Dagger)
Opal Shimmer – 7 g (.24 Oz.)
Attraction Crystal Clear Powder –  7 g (.24 Oz.)
Attraction Nail Liquid – 118 mL (3.9 Fl. Oz.)
Platinum Nail Forms (30 Ct.)
2 Empty Mixing Jars
*KIT CONTENTS MAY CHANGE WITHOUT NOTICE